Palestinians and Jordanians are welcoming the decision by the United Nations children's agency UNICEF to

end its contract

with

G4S

in Jordan.

The decision comes after a year-long campaign by activists in Jordan urging UNICEF and other UN bodies to end their contracts with the international security and incarceration firm over its role in Israel's imprisonment and torture of Palestinian political prisoners and other Israeli human rights abuses.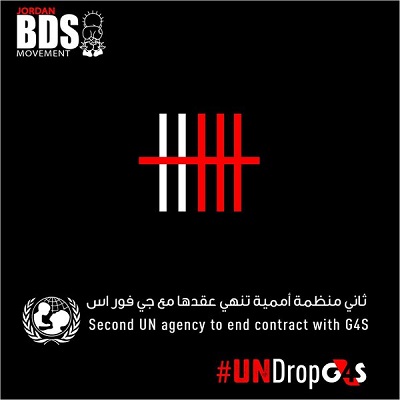 "UNICEF did the right thing by ending its contract with G4S as the company supports violations of rights of Palestinian children including their routine torture in Israeli jails," Guman Mussa, the Arab World campaigns coordinator with the Palestinian Boycott Divestment and Sanction National Committee (BNC), said.
Stop G4S
UNICEF is the second UN agency in Jordan to dump G4S, following UNHCR, the UN agency that cares for hundreds of thousands of Syrian refugees in the country.
"We urge the United Nations, its Secretary General Ban Ki-moon and all UN agencies contracting G4S worldwide to follow the lead of UNICEF and UNHCR in Jordan and immediately end their contracts with G4S," Mussa added.
The BNC, the Palestinian civil society coalition that leads the boycott, divestment and sanctions movement, has endorsed the global Stop G4S campaign which aims to hold the company accountable for providing equipment and services to Israeli prisons in which thousands of Palestinian political prisoners, children and administrative detainees are subjected to inhumane treatment.
G4S also provides equipment for checkpoints along Israel's wall annexing Palestinian land in the occupied West Bank and for its settlements built in violation of international law.
The firm also co-manages the Israeli police academy in Jerusalem.
Two down, three to go
G4S has lost contracts worth $22 million globally as a result of the Stop G4S campaign, according to the BNC.
Just last month, a Colombian restaurant chain with branches across Latin America and Spain also dropped G4Safter a year-long campaign by BDS Colombia.
Following the successes with UNICEF and UNHCR, Jordan BDS, the activist group that has spearheaded the campaign locally, is now aiming to get three other UN agencies working in Jordan to drop G4S as well.