PUBLICATIES - NPK-BERICHTEN
Palestijnse jongen (14) uit Gaza tot 6 maanden gevangenisstraf veroordeeld door Israelisch gerechtshof
10/01/2016
Volgens Addameer zaten eind december 470 Palestijnse kinderen in Israelische gevangenissen.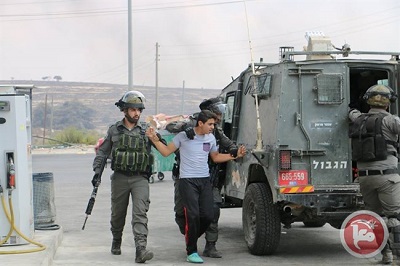 (MaanImages/File)
GAZA CITY (Ma'an) -- An Israeli court sentenced a 14-year-old Palestinian boy from the Gaza Strip to six months in prison, an official from the Palestinian Authority Commission of Detainees and Ex-Detainees Affairs said in a statement.
Abd al-Nasser Farawanah said that Israeli forces had detained 13 Palestinian children from the Gaza Strip on Oct. 10 during clashes in the al-Bureij refugee camp in the central Gaza Strip. Nine of them were released, while four remained in detention and were indicted.
The youngest of the detainees, Muhammad Muhsin Ramadan al-Azzazi, 14, is an eighth-grade student from al-Bureij.
The Israeli army did not immediately respond to a request for comment on the case.
Al-Azzazi told a lawyer from the Commission of Detainees and Ex-Detainees Affairs, who visited him in the Israeli Ofek juvenile prison on Dec. 22, that three Israeli soldiers attacked him and forced him to take off his clothes at gunpoint. They then handcuffed and blindfolded him before throwing him to the floor in front of their military jeep and beating his entire body with their hands, feet and the butts of their rifles.
Al-Azzazi added that one of the soldiers beat his shoulder with a sharp object which caused a deep wound, and that another soldier hit his mouth with a shoe, breaking his front tooth.
The boy also said that he vomited blood after being severely beaten in the stomach.
"I was held for three days in an open area of a military site near the eastern border of the Gaza Strip, where we would sit on the floor, sometimes under the rain," al-Azzazi added.
"We did not have anything to shelter us from the cold except for shorts they gave us. We suffered of hunger and thirst since we did not get any kind of food or water for the first three days, and we could not sleep."
"We would be constantly beaten and cursed," the boy said. "After three days I was moved to a police station before being taken to the Beersheba prison, and then to the Ofek prison.
"I still suffer from the cold and do not have enough clothing, and I have not yet seen any of my family members," he continued.
Al-Azzazi's father, Muhsin, said he was extremely worried about his child's well-being due to his being subjected to torture and denied basic rights, in addition to missing school.
"Israeli courts have never been just or independent when dealing with Palestinian children," Farawanah said in his statement, "as courts are a tool of the Israeli occupation taking orders from security services and, sometimes, political figures."
Farawanah called on the international community and children's rights groups to take immediate action to protect Palestinian children detained by Israeli authorities at a young age.
The Commission of Detainees and Ex-Detainees Affairs said it had monitored 2,179 cases of Palestinian children being detained during 2015. Most cases occurred from October onward, during the ongoing popular upheaval in the West Bank and East Jerusalem, although some cases were also reported in the Gaza Strip.
A December report from Palestinian prisoners rights organization Addameer stated that 470 Palestinian children were held in Israeli prisons at the end of 2015, a significant jump compared to before the uprising, when a reported 156 children were detained in September.
---
Actuele NPK-berichten