PUBLICATIES - NPK-BERICHTEN
Teken de petitie aan de VN om alle samenwerking met G4S te stoppen
11/12/2015
Voor 22 miljoen dollar per jaar contracteert de VN G4S, dat zich schuldig maakt aan onder andere marteling en opsluiting van kinderen.
Join us in calling on the UN to cancel its $22m contracts with G4S, the security company that helps Israel imprison and torture Palestinians.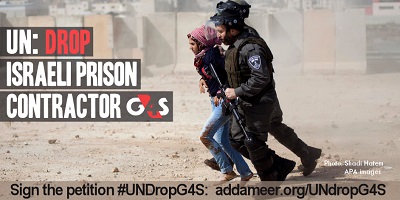 The UNHCR in Jordan has said it has ended some of its contracts with G4S. Now we want to push the UN as a whole to cut all of its contracts with G4S.

Take action now to tell the UN to end all of its contracts with G4S

G4S provides services and equipment to Israeli occupation prisons where torture and detention without trial are common place.
Since the start of October, tens of thousands of Palestinians have taken to the streets to protest Israeli apartheid and colonialism.
As a way to repress this popular resistance, Israel has arrested 1,800 Palestinians, including 300 children, many of whom are now held in G4S-equipped prisons.

By awarding G4S contracts worth $22m last year, the UN is giving G4S a green light to carry on violating international law and human rights.

Stand in solidarity with Palestinian political prisoners

Last week, campaigners in Amman, London, New York, Brussels and Rome marked the UN Day of Solidarity with the Palestinian people by holding protests at the UN over its links with G4S.

Leading Palestinian organisations and hundreds of international organisations have called on the UN to cancel its contracts with G4S over the role it plays in violating human rights in prisons and detention centres it helps to run not only in Palestine but also in South Africa, the US, the UK and beyond.

Read for further information
Jordan branch of UN agency boycotts Israel prison profiteer G4S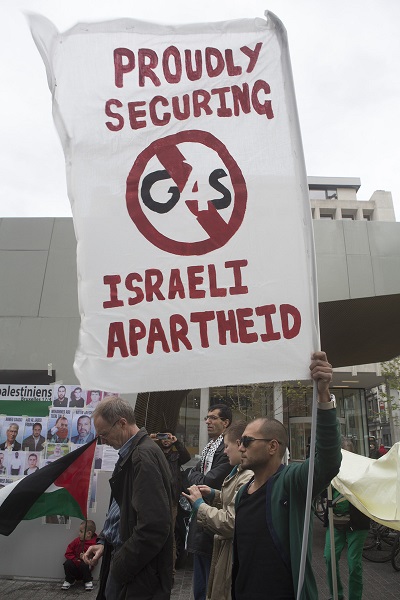 G4S has been protested by Palestine solidarity campaigners worldwide. Anne Paq ActiveStills
The Jordanian branch of the UN Refugee Agency is no longer using the services of the British security firm G4S.
The firm has long been targeted by the boycott, divestment and sanctions movement for its involvement in human rights abuses against Palestinians. It provides services to Israeli prisons and checkpoints in the occupied West Bank, where Palestinians are frequently tortured and mistreated.
The decision by the Jordanian branch of the UNHCR, as the refugee agency is known, follows protests in five major cities worldwide last weekend. Activists marked the International Day of Solidarity with the Palestinian People by denouncing the UN's relationship with G4S.
According to the Palestinian BDS National Committee, the UN has contracts with G4S worth more than $22 million annually.
G4S is complicit in the detention without trial and torture of Palestinian political prisoners, including children. Some 1,800 Palestinians, including 300 children, have been arrested since the beginning of October, the Palestinian prisoner rights group Addameer says.
In recent years, several major institutions have either stopped contracts with or divested funds from the company. These have included the Bill and Melinda Gates Foundation and Columbia University in New York.
BDS activists hailed the latest decision to sever ties with G4S.
"We welcome the announcement of UNHCR in Jordan that it is no longer hiring G4S," said Yazeed Halaseh, a member of the Jordan BDS group. "G4S is at the heart of Israel's use of mass incarceration to repress Palestinian opposition to its military occupation and settler colonialism."
Breaking international law
Despite the move by UNHCR, a number of other UN agencies continue to hold contracts with G4S. These include the children's fund UNICEF and the United Nations Development Program.
In September, more than 200 Palestinian and international organizations signed a letter to UN Secretary-General Ban Ki-moon declaring that G4S violates the UN's code of conduct for procurement.
"By maintaining security systems at Israel's prisons, G4S assists Israel with its use of mass incarceration to deter Palestinians from protesting against Israel's violations of international law," the letter states.
"Through its involvement in prisons inside Israel, G4S is complicit in Israel's violations of Article 76 of the Fourth Geneva Convention, which prohibits the transfer of prisoners from occupied territory into the territory of the occupier," the groups add.
The same letter points out that G4S's links to abuse are not limited to Palestine. The company faces allegations of labor rights violations in Malawi, Mozambique, South Africa, Uganda, South Korea as well as being linked to prisoner deaths in the UK and elsewhere.
The UN code of conduct on suppliers states that "the UN expects its suppliers to support and respect the protection of internationally proclaimed human rights and to ensure that they are not complicit in human rights abuses."
In 2012, Richard Falk, then a UN special rapporteur on Palestine, issued a report approved by the UN General Assembly that named G4S among international businesses that profit from Israeli settlements in the West Bank.
Falk recommended that G4S and a number of other companies should be boycotted until they brought their "operations into line with international human rights and humanitarian law and standards."
Skeptical
Falk named G4S among those claiming the desire to end operations that violated the UN Global Compact, a policy initiative for businesses committed to operating in accordance with human rights principles.
In June, it was reported that the UK's National Contact Point, a government-funded watchdog, "cleared" G4S of direct involvement in human rights abuses.
---
Actuele NPK-berichten