PUBLICATIES - NPK-BERICHTEN
Tegen TTIP, voor rechten van de Palestijnen!
25/09/2015
TTIP betekent de aanval op de campagnes die de rechten van de Palestijnen steunen.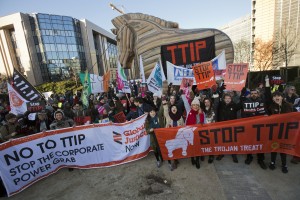 No TTIP, no silencing support for Palestinian rights
More than 150 trade unions, civil society and solidarity groups from across Europe published a letter in which they "oppose the dangerous Transatlantic Trade and Investment Partnership (TTIP) negotiations and the related attempts by some US politicians to use the TTIP process to restrict freedom of political expression and campaigning in solidarity with the Palestinian people's struggle for freedom, justice and equality."
In June, US President Barack Obama signed into law a bill that makes it one of his country's "principal negotiating objectives" for TTIP "to discourage politically motivated actions to boycott, divest from or sanction Israel and to seek the elimination of politically motivated non-tariff barriers on Israeli goods, services, or other commerce imposed on the State of Israel." This law extends this US discouragement of BDS to include "Israeli-controlled territories," in order to dissuade the EU to label products from Israeli settlements in the occupied West Bank.
However after Barak Obama signed the bill, his administration indicated that it would do nothing to protect settlement products from boycotts. The US State Department argued that by "conflating Israel and 'Israeli-controlled territories,'" the anti-BDS provision "runs counter to longstanding US policy."
The signatories to the letter declare: "In the wake of Israel's 2014 attack on the Gaza Strip, which killed more than 2,200 people and included deliberate attacks on civilians that amounted to war crimes according to the UN and other bodies, people around the world came out in numbers to express support for the Palestinian struggle for freedom, justice and equality. We will not accept any legislative attempt to silence these expressions of solidarity."
As the letter notes, TTIP is generating opposition not only because of its implications for Palestine but because it would see "an unprecedented transfer of power to corporate interests and represents a serious attack on democracy, social standards, workers' rights and environmental regulations."
The letter and full list of signatories are published at War on Want's website.
ECCPalestine.org, 24 september 2015
Lees ook:
Ali Abunimah - The Electronic Intifada, 10 september 2015
Verdrag Canada EU is TTIP via achterdeur - de Volkskrant, 25 september 2015
---
Actuele NPK-berichten