PUBLICATIES - NPK-BERICHTEN
Snapchat's Tel Aviv feature erases a reality of dispossession
12/07/2015
By featuring Tel Aviv on its 'live story,' Snapchat helps brand the city as young, vibrant and fun, leaving out traces of the destruction it helped sow.
This past week, video messaging app Snapchat put Tel Aviv on the map when it decided to spotlight the city on its "live story" feature. Tel Aviv's Snapchat story put together hundreds of photos and videos, including young people riding roller-coasters, seeking out bargains at the local market, dancing at an outdoor concert, and indulging in "Shawarma Tuesdays."
Related stories
In one video, a man spray-paints the names "Mohammed+Moshe" in the middle of a heart, superimposed with the Snapchat graphic "Tel Aviv Life." A Druze woman makes taboon bread. One woman explains how streets signs are written in Hebrew, Arabic and English. As one user proclaims to the camera, "Here in Tel Aviv, we have everything!"
Snapchat caters towards millennials with short attention spans by allowing users to send short videos or photos that self-destruct seconds after being opened by a recipient. Through their live story feature, the app broadcasts a collage of users' video or photo "snaps" in a selected number of cities worldwide. In most cases, the live stories correspond with major world events.
While the Tel Aviv live story did not correspond to a significant holiday or event, journalist Rania Khalek went on Twitter to lament the bitter irony of the timing:
(This Twitter plus image is not shown here)
She then asks her followers to "Compare these beaches," posting a Snapchat of surfboarding children in Tel Aviv next to a gruesome photo of the aftermath of a missile attack last summer that killed four children on Gaza beach. In the wake of the backlash, Snapchat streamed a "West Bank Live Story" two days later, complete with a "Shawarma Thursday" from the other side of the wall.
Since the devastating Israeli attack on the Strip last summer, which left 2,200 Palestinians dead, an air of normalcy has persisted in Tel Aviv. The Snapchat live story, viewed by nearly 100 million active users, reflects a visual field that defines "business as usual" in Tel Aviv while branding the city as young, vibrant and fun. This field of vision is simultaneously restricted by mechanisms of erasure and denial that reach back to its early years. In this city, a violent reality fades as quickly as a self-destructing photo.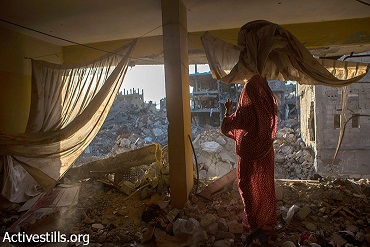 A Palestinian woman stands inside a damaged house in Shujayea neighborood, which was heavily damaged during the latest Israeli offensive, east of Gaza city, September 4, 2014. During the seven-week Israeli military offensive, 2,101 Palestinians were killed, including 495 children, and an estimated 18,000 housing units have been either destroyed or severely damaged, leaving more than 108,000 people homeless. (photo: Activestills.org)
Snapchat's visual framing of Tel Aviv is only the latest round in the retelling of an urban history that relies heavily on imagination and cultural construction. Originally a fictional city in Theodor Herzl's novel The Old New Land (Altneuland), Tel Aviv's story became a reality in 1909— first with the official foundation of Ahuzat Bayit, a Jewish neighborhood on the outskirts of Jaffa, which later took the name of Tel Aviv.
Contrary to the modern Zionist mythology, which glorifies Tel Aviv as a quintessentially Hebrew city, Tel Aviv did not boom as a miracle in the middle of the desert. Instead it flourished because of its proximity to Jaffa, the Arab port city on the Mediterranean situated on the crossroads of vibrant trade routes.
Read more: Why the Arabs are coming to Tel Aviv
Over the course of the years, Tel Aviv grew and eventually "swallowed" Jaffa and the surrounding Arab villages with its self-proclaimed "modern" urbanization and much-advertised Bauhaus-inspired architecture. With a Eurocentric outlook, architects of the city cashed in on an imagined contrast between Jaffa and Tel Aviv—the former perceived as an Orientalist obstacle to the European development of the latter.
After the establishment of the State of Israel in 1948, Jaffa's city center was left in ruins and most of its Arab inhabitants were forced to flee. Sharon Rotband's book "White City Black City" traces how Jaffa then became an impoverished suburb of Tel Aviv before being rebuilt as a tourist district in the 1960s.
Today, while Palestinians residents of Jaffa continue to face social and economic hardships, "Yaffo" thrives as a largely gentrified, chic neighborhood and a tourist site with theme-park attractions. The silence surrounding the disappearance of the Palestinian city persists. The Snapchat story, while including a few picturesque images from Jaffa's coastline under its Hebrew name, reproduces the urbicide of this once-thriving Palestinian city in favor of a narrative that "keeps the peace."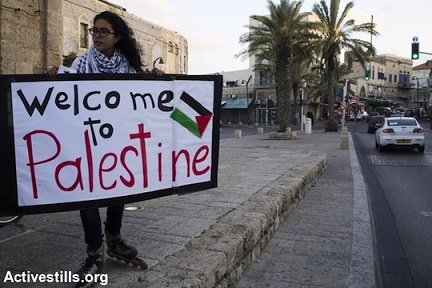 A demonstration commemorating Land Day, Jaffa, March 30, 2014. (Photo: Keren Manor/ActiveStills.org)
The Snapchat live story not only reflects these multiple erasures, but also actively brands Tel Aviv as vibrant, pluralistic and young. The municipality recently launched the Global City initiative to promote "nonstop" tourism and construct the city as a "blend of East and West" that "reveres creativity, entrepreneurship and free thinking." The city is advertised as a way to "bypass the conflict existing in the region."
Ayam Zaum, a private consultant for place branding, boasts that the digital revolution of the 1990s is exactly what Tel Aviv has been waiting for: "An opportunity to detach from place, culture, or language and to join a placeless, new, exciting culture and industry, in which everyone is new, and your past or location do not matter." These things also do not matter in the frames of Snapchat, where colorful graphics dress up the city in a veneer of youthful modernity as each proceeding image swallows the next.
By Shimrit Lee and Ilker Hepkaner
972mag.com 11 juli 2015
---
Actuele NPK-berichten